Cashew Nut Sorting Machine and Grading Machines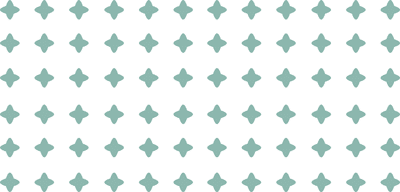 Sorting of Raw Cashew Nuts into 5 different sizes A+, A, B, C, D using Automatic Cashew Nut Sorting Machine.
Automatic Cashew Nut Sorting Machine and Storage System
Integrated vertical silos for automation.
In the quest to keep the broken percentage amongst cashew kernels low, its of utmost importance to Grade the Raw Cashew Nuts and accordingly feed to the Cutting machine. Random feeding leads to High Broken percentage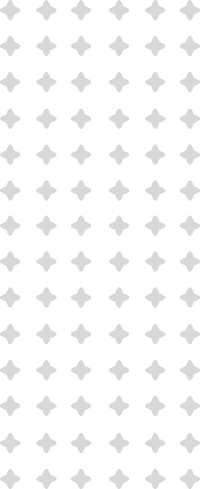 Cashew Nut Grading and Sorting Machines
automatic cashew nut sorting and storing system
Upto 2 Tons Per Hour Raw Cashew Sorting Machine
We offer 3m | 6m | 9m | and 12m Cashew Nut Sorting Machine. It is integrated with an automatic infeed and storing system. This will reduce handling time and costs drastically.
Raw cashew nut grading machine is a device that is used to grade raw cashew nuts. The machine is also known as the raw cashew sorting machine. Raising the quality of raw cashew nuts is a difficult task. Grading cashews is a time-consuming and costly process, which can be significantly simplified with a machine.
This is made up of two rotating discs, which are usually mounted on top of each other inside a drum. These rotating discs are usually perforated with holes so that the larger nuts can fall through to the lower disc while smaller ones remain on top of the upper disc.
The perforations are made in order to match the size of the nuts. The perforations are then lined up with small holes in a flat surface for easy grading and separation of sizes.
There are different grades for cashews, depending on what type they are intended for.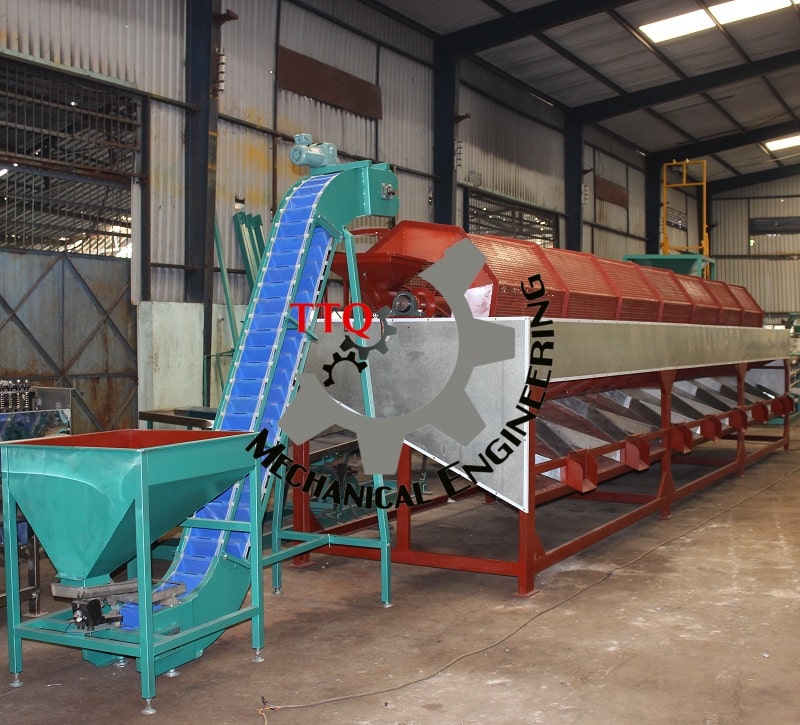 Effecient Sorting of Cashew Nuts
First step in the processing of raw cashew nuts. Good quality Cashew sorting Machines ensure, smoothness and effeciency in Cashew Processing.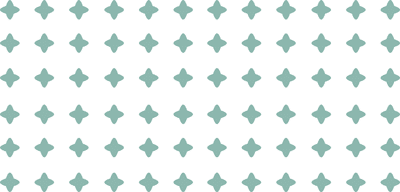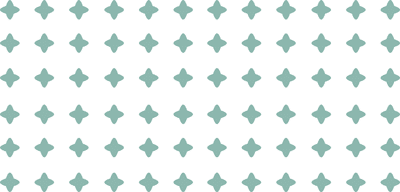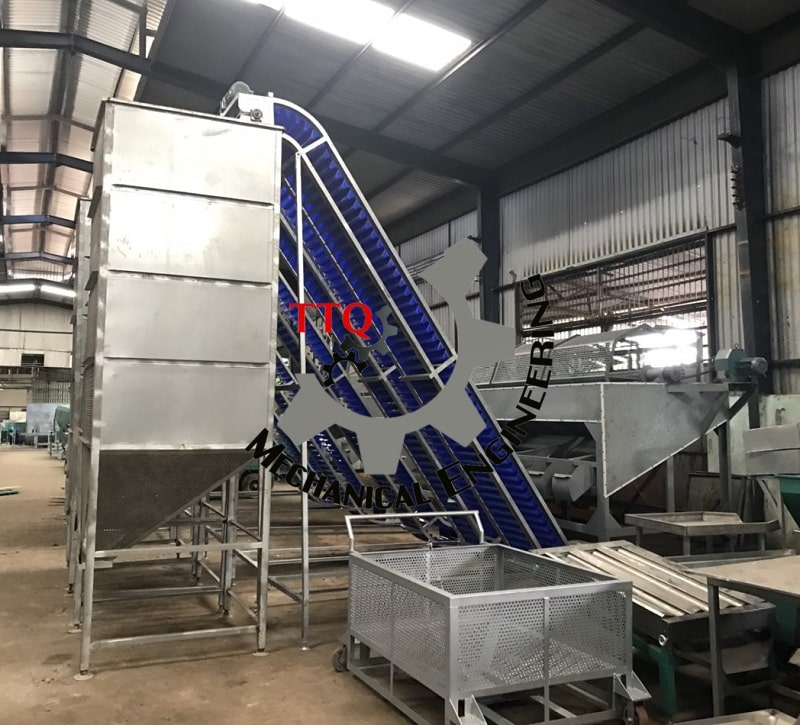 Automatic Storage
Introducing integrated Storing Silo's with the Cashew Sorting Machines. This will help in completely automising handling of Raw Cashew Nuts, save on space and Labor.
Frequently asked question - Raw Cashew Nut Grading Machine
What is a Raw Cashew Nut Sorting Machine?
Raw Cashew Nuts are purchased in bulk in gunny bags of 80 Kg each from the collectors or the Exporters. They are never purchased graded, so sorting these Nuts into different sizes has to be done by the Cashew Processors. The machine used for this purpose is called a Raw Cashew Nut Size Sorting Machine.
What are Different Sizes and Capacity available?
Raw Cashew Nut Size Sorting machine comes in 4 different sizes 3m, 6m, 9m, and 12 m in length.
Nut infeed Capacities start from 500 Kg/Hour to 2,500 Tons Per Hour.
How does Raw Cashew Nut Sorting Machine work?
Raw Cashew Nuts from the Bags are dropped in the Bins, from where they are automatically elevated to Hexagonal Sorting Mesh. This mesh keeps on rotating, and nuts move ahead cause of this. Mesh has holes of different sizes, and nuts drop as per their sizes and are collected and repacked into bags, this time as per the size.
What are different Grades Of Raw Cashew Nuts
Normally we get 5 Main Grades A+, A, B, C, D. Here, A+ is the biggest nut, and D is the smallest. Depending on the origin country of the nut, we will get the majority of the nuts of a particular size.
Cashew Nut Size Sorting machine is Automatic in itself, and manual labor is required to put the nuts in
Bins and recollect them again in bags.
Now, for bigger size projects, we have introduced automatic collecting and storing too. Nuts, after getting sorted in the Sorting machine, are collected and stored in Vertical Silos. This helps to save on labor and helps to handle larger quantity of nuts effortlessly.
Is Electric Control Panel included?
Raw Cashew Nut Sorting Machine comes complete with its Control Panel and you can control every operation easily.
Cashew
Kernel
Kernel
Size Sorting Machine
This machine is different from Raw Cashew Nut Grading Machine, Size Sorting Machine classifies finished kernels in Wholes, Broken and Bits. Wholes are further classified into W180, W240, W360, W440 etc
Cashew kernel size sorting machine is a machine which used for separating different sizes of cashew kernels in order to increase the production and quality.
This is a machine with rotary sieve that is mounted with a series of discs that sieves and separates the different sizes of cashew nuts.
Cashew kernel sorting machine helps in increasing the productivity and improving the quality by removing all the cashews which do not meet the size specification set by industry standards.
– Size after classified: 4 types (W240,W320, W450 and broken nuts)
– Percentage evenly: 90-95%
– Easily adjust the selection's pore size.
Include:
+ Contain material:
+ Bucket
+ Classify machines
-Workforce: 02 people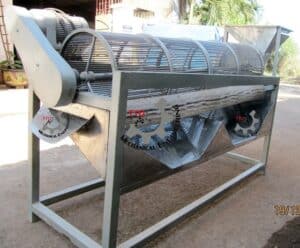 BROKEN CASHEW NUT SORTING MACHINE
– Capacity: 150 – 200kg/h
– Electric consumption: 1Hp –1 phase – 220V-50Hz
– Dimensions: L*W*H=2.2*0.8*1.2
– Sorting 03 door: SP & PP, LB, WS.
The color sorting process is a very important part of the cashew nuts for preservation. There are many advantages of using color sorters compared to other methods such as manual sorting or machine sorting. There are also some disadvantages of using color sorters which need to be considered. There are some advantages and disadvantages of using the color sorters based on the Cashew nut kernels.
It is possible to use the cashew color sorter in all types of nuts such as cashew nuts, almond seeds and other nuts. This is because it can process all types of cashew nuts. When this sorter is used in various types of nuts it ensures that they all have a similar color. The disadvantage of using this sorter is that it can get damaged if the cashew seed is crushed in any way. It can get damaged if the heat generated by the sorter is too much for the machine.
Conventional grades of
.
used in the cashew industry.
No

Grade

Description

White Kernels

1

WW180

White Wholes 180

2

WW210

White Wholes 210

3

WW240

White Wholes 240

4

WW3230

White Wholes 320

5

WW450

White Wholes 450

6

WW500

White Wholes 500

7

FB / WB

Fancy Butts (White Butts)

8

FS / WS

Fancy Splits (White Splits)

9

LWP

Large White Pieces

10

SWP

Small White Pieces

11

BB

Baby Bits

Scorched Kernels

12

SW180

Scorched Wholes 180

13

SW210

Scorched Wholes 210

14

SW240

Scorched Wholes 240

15

SW320

Scorched Wholes 320

16

SW450

Scorched Wholes 450

17

SW500

Scorched Wholes 500

18

SB

Scorched Butts

19

SS

Scorched Splits

20

SP

Scorched Pieces

21

SSP

Scorched Small Pieces

Dessert Kernels

22

DW

Dessert Wholes

23

SSW

Scorched Second Wholes

24

DB

Dessert Butts

25

DS

Dessert Splits

26

DP

Dessert Pieces

27

SPS

Scorched Pieces Second

Source: AFI; www.afius.org
Please fill this Contact form for Cashew Nut Roasting Machine details & price.
Address
15 Floor, Tower B, Viettel Complex Tower, 285 Cách Mạng Tháng Tám, Quận 10, Ho Chi Minh City, VIETNAM