Cashew Cutting Machine | Cashew Cutter Machinery | Automatic Cashew Nut Cutting Machines |High Speed Cutting Machine
We are engaged as one of the renowned automatic cashew nut cutting machine manufacturers. This cashew cutting machine is manufactured using supreme quality raw material and modern technology. Our offered line of cashew nut cutting machines is strictly checked by our quality experts to ensure its flawlessness at the customer's end. Our offered products are widely appreciated by our customers for their supreme quality. Moreover, customers can easily avail these products from us at an affordable price.
Raw Cashew Nut Cutting Machine - Automatic
We have a wide range of Cashew Nut Cutting Machine for sale in the market which are designed and manufactured by our experts with high quality material. Our range of Cashew Nut Cutting Machine has been used in many countries like Nigeria, Burkina Faso, Ivory Coast, Brazil, India, Tanzania, Mozambique, Ghana, Benin, Guinea Bissau, Cambodia, Indonesia etc. The process of cutting the cashew nut involves removing the shell from the kernel using mechanical force or manual labor. This operation helps to get rid of the shell that covers the kernels. It also removes the bitter taste present within the shells.
Advanced Technology Cashew Cutter
Automatic Cashew Nut Shelling Machine
Depending on the price, you can choose between individual machine automatic cashew cutters or use it as an automatic cashew peeler and integrate it with the scooping vibration screen and automatic kernel removal.
Excellent Quality
95% higher cutting efficiency for cashew cutter machine
Robust construction
Less maintenance and breakdown during operation.
Long Service Life
Cutter designed for long life with stable operation.
Cashew Cutting Machine Price
Our specialized technology to provide an automatic cashew processing plant of any size is ready to use. We can customize cashew nut processing machines according to your capacity requirements.
Automatic Cashew Nut Cutting line All parts of the automatic cashew nut shelling line are controlled by a single control panel. The fully automatic design can save more working time. High efficiency in shelling and separating machine. The final perfect cashew kernel can reach 98%.
To know the price of cashew machines, please contact us.
Automatic Cashew Cutter Machines and Cashew Shelling Machine Principle of Operation
We will explain the mechanical engineering characteristics of cashew nuts, cashew processing machine, cutting the shell in a mechanized way to reduce time. Currently, cutting the cashew nut shell is done manually, which is laborious and dangerous. During the shearing of the cashew nut shell a corrosive liquid is coming out which is dangerous and in turn time consuming due to its oily property. This automatic cashew nut breaker can be operated by an unskilled worker. The release of kernel from the shell without damage and breakage is possible with this. A power-operated automatic cashew nut breaker is based on the shear principle with respect to cutters is mounted on sliding guides. Currently, few automatic cashew nut shelling machines are present, but there are some problems, such as the fact that it cannot be adjusted along the guide according to the size of the cashew nut, so the efficiency of the machine may be reduced and the cost may increase. We overcome this problem by manufacturing an automatic cashew nut peeler using the spring adjustment guide with respect to the cashew nut size and in turn improves the efficiency. First the fracture point of the cashew nut shell and the depth needed to cut the shell is determined, after that, according to the fracture point, the Vee guide is designed near the cutting section. An automatic cashew nut breaker is having two cutters to cut the cashew nut with automatic cashew nut feeding one after the other through the Vee guide. The cutter is mounted on sliding guides that move between the two Vee guides that carry two blades, which creates an impact load on the cashew nut. These two blades are used to separate the kernels from the shell by operating the cutter. After shelling, the nut falls freely into the tray due to gravity.engineering 

Where to Buy a Good Cashew Cutting Machine?
Our products pass the highest quality standards. All our cashew processing machines come with an excellent warranty period. We supply spare parts including blade cashew with all our cashew cutters. If you want to know how much money you will earn per hour, contact us now for automatic cashew cutting machines !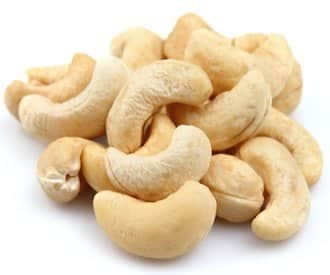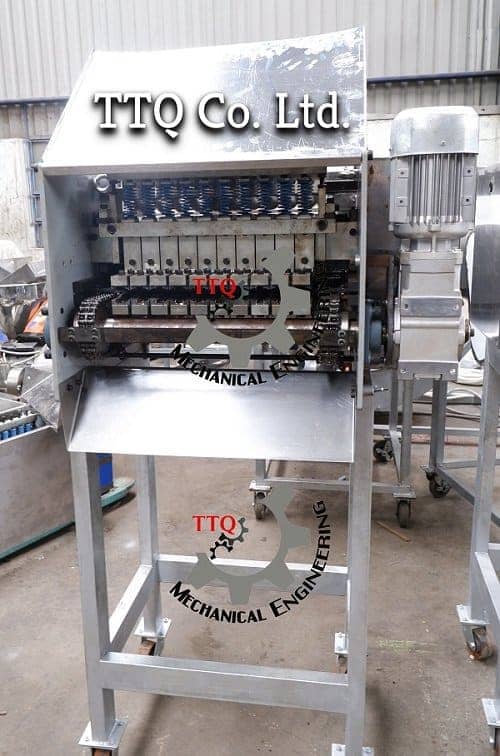 Cashew Nuts Cutting Machine
Nuts are a very popular ingredient in many cuisines around the world. Cashew nuts are a great snack, but before they can be eaten they need to be processed. In this section we will talk about how Cashew nuts can be processed and what tools are used for processing. Cashew nuts need to be peeled and then roasted with sugar or honey to make them edible.
The first step in preparing Cashew nuts is to peel them in a peeling machine. Machine with a spinning disc breaks the shell and leaves it intact on the outside of the nut. The shelled nuts are now ready to roast or boil in water with sugar or honey for 20-30 minutes until softened and tender. Cashew nuts are processed in different ways depending on their end use. This includes shelling, roasting, and cracking.
Upgrade to automatic cashew cutters. Reap huge profits
If you want to know how much money you will earn per hour, contact us now!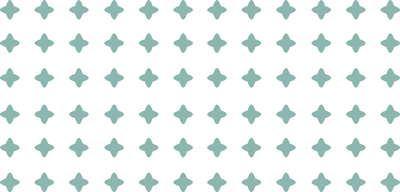 Mude a forma de seu processo Castanha de caju
Make your cashew cutting business profitable with our Automatic Cashew Breaking Lines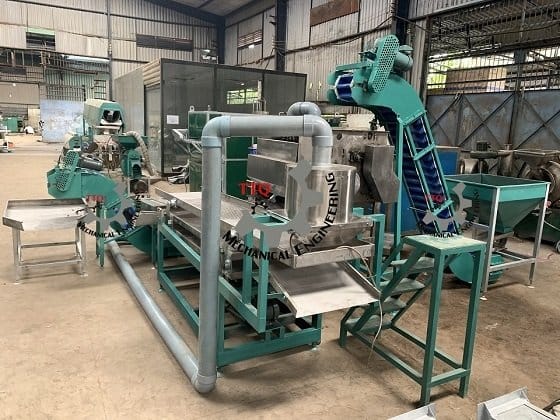 Cashew Cutting line with single sieve
Ideal for 1 cashew cutter and gives a capacity of 300/350 Kg per hour comes complete with automatic feeding, shell separation over vibration screen, centrifuge, and control panel.
Cashew Shelling Line with Double Sieve
Suitable for 2 or 3 cashew cutters and comes with 2 screens. Capacity can be 600 / 1000 Kgs per hour. Greater efficiency in separating cashew shells and kernels.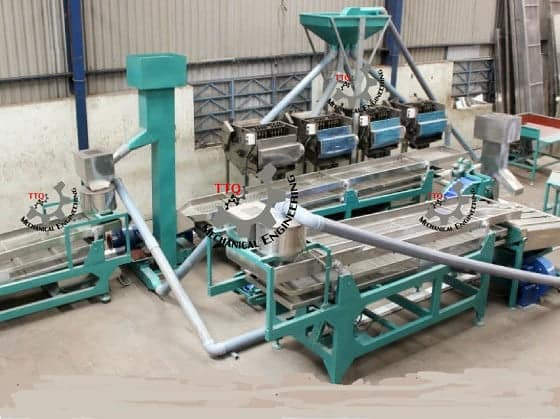 Triple Sieve Cashew Cutting Line
High cashew nut cutting capacity from 1200 to 1500 kg per hour. More efficient separation of shell and kernel due to 3 sieves and fully automated.
Reputed Cashew Nut Cutting Machine Manufacturer
Cashew nuts help you stay healthy
Cashew nuts are a healthy snack with many nutritional benefits.
The cashew nut is a type of nut that grows on trees. They are related to the poison ivy plant. The cashew plant is native to northeastern Brazil, Burkina Faso, Côte d'Ivoire where they grow in the region.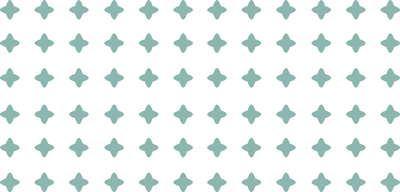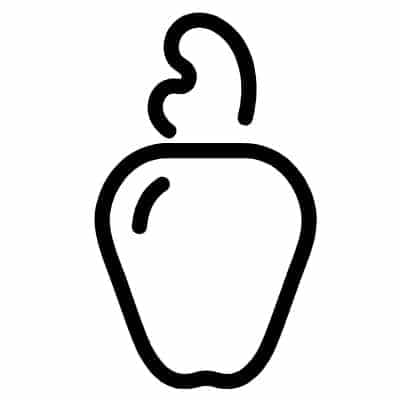 Healthy cashew nuts
Cashew nuts have many nutritional benefits, including high protein and fiber content, low saturated fat content, low sugar content, and high iron content.
Frequently Asked Questions
What is Cashew Processing?
Cashew processing is the process of removing cashew kernels from raw cashew nuts and then process these kernels for direct consumption or into cashew butter, cashew milk, or cashew meal.
Cashews are one of the most popular nuts in the world. They are also very high in nutritional value.
is cashew processing profitable?
Cashew processing is a profitable business. Cashew processing can be done in two ways, either by hand or machine. Cashews are processed by hand when the cashew kernels are soaked in water for a few days to soften them up and then they are dried in the sun for several days. The other way is to process them mechanically, which involves cracking the shell of the cashews with a hammer and then removing the kernel from its shell.
The machine-based method of processing cashews provides more efficient results than the traditional method of hand-processing, but it is also more expensive. Therefore, it is only used under certain circumstances such as when there is an excess of raw material that needs to be processed quickly or when there are high volumes of raw material available at one time.
How do you cut cashew nuts?
Cut cashew nuts are a common ingredient in many recipes. They are also an ingredient in many dishes that are served as appetizers. Cashews have a unique taste and texture that is different from other nuts, so it is important to know how to cut them properly.
There are several methods for cutting cashews. Some people use automatic cutting machine, while others prefer cutting them by hand with a knife. Regardless of which method you choose, there are some things you should keep in mind when cutting cashews. Oil released by the nut sis very toxic. Hands should be protected from direct contact and cut kernels should be separated from the nuts as soon as possible.
what is cashew nut used for?
Cashew nuts are used in a variety of food products, including ice cream, cashew butter, and cheese.
Cashew nuts are shelled from the cashew apple and come in a variety of sizes. They are usually roasted and salted for consumption or used as an additive in dairy products. outros pratos.
what are the advantages of our cutting machines?
- The machine is balanced with consistency performance.
- Very high production capacity of 300 Kg/Hr and more.
- Very low power consumption - 1 Hp
- Limited oil carry-over to nuts
- Latest technology, which is being improved regularly
- Speed control of the machine possible through inverter
what is the material used to make the Machine?
All cashew kernel contact parts are made of SS 304. The blades are made from a special imported alloy.
Do you supply individual machines to different parts of Africa?
Yes, we can deliver machines to any port in Africa, whether it maybe in Ghana, Burkina Faso or Côte d'Ivoire.
Do you offer spare parts with the machine?
Yes, we offer free spare parts during the purchase of the machine. For future needs, you can also buy spare parts from us.
what is a cashew nut peeling machine?
Cashew nut peeling is a process to remove kernel skin also called as Testa. This can be done manually in case of small cashew processing units, while we use automatic machines to peel the kernel skin on larger scale. Remember, before peeling the skin from cashew kernel, you need to dry the cashew kernel for 10/12 hours and then in humidification chamber for 5/6 hours. This helps to loosen the skin and remove it without causing the kernels to break.
Manual Cutting Machinery Aspects
Aspects of Automatic Cashew Cutting Machines That Should Be Considered
Future of Cashew Nut Cutting Machines
As technology continues to advance, it is likely that cashew nut cutting machines will become even more efficient and cost-effective. There may also be advancements in the design of the machine, such as the use of robotics or automation to further reduce labor costs.
Additionally, there may be developments in the way cashews are grown and harvested, which could impact the design and functionality of the cashew nut cutting machine in the future.
Based on current trends and technological advancements, it is likely that the future of cashew nut cutting machines will see further automation and efficiency improvements.
One possible direction for the future of cashew nut cutting machines is the development of machines that use artificial intelligence and machine learning algorithms to optimize cutting patterns and minimize waste. These machines could also incorporate sensors and other technologies to improve accuracy and speed up the cutting process.
Another potential area of development is the integration of robotic arms and other automated systems into cashew nut cutting machines, which could further reduce the need for human labor and increase efficiency.
Overall, the future of cashew nut cutting machines is likely to see continued innovation and improvements, as the demand for processed cashew nuts continues to grow globally.
Automatic Cashew Cutting Machine Price in India
We support with complete documentation, support for custom clearance of cashew machine in India.
For Nigeria and other African countries, we support with Complete documentation to comply with COTECHNO like Product Certificate and SONCAP.
We also help customer's to streamline the HS Code for Cashew Machines to streamline the import procedure. HS Codes can be a complicated process for many importing countries. Also some HS Code attract very high Import customs duty like in Brasil and Nigeria.

The process of removing raw cashew nut kernels from their shells is known as de-shelling. De-shelling is done to increase the proportion of whole/complete kernels and to make peeling easier. The most important stage in the raw cashew nut production process is de-shelling. Precision and accuracy are essential for preventing kernel failure. The de-shelling method is broken down into two (2) stages:
a) Shell removal: To extract the kernels, the shell of the raw cashew nuts is broken or chopped. This is performed by severing the shells with either manually controlled machinery or fully automated shelling devices. Separating kernels from shells can be done manually, with a small pointed instrument, or with a separation machine. Existing machines are unable to decouple kernels and shells completely. As a result, the kernel and shell must be separated manually.
By rubbing workers' hands with vegetable oils (coconut oil, castor seed oil, linseed oil, flax seed oil) or ashes, the corrosive activity of CNSL in raw cashew nut shells can be minimized. Wearing rubber gloves while shelling is another precaution.
Following separation, kernels are divided into three categories: 1) whole kernels 2) fractured kernels; and 3) rejections. The entire and cracked cashew kernels are further processed to produce the final cashew kernel. Rejects are altered to produce kernels that can be further processed into high-quality kernels.
The shells are used as fuel in the machinery of the cashew processing business. In addition, the shell is utilized to produce biofuel and extract CNSL. The remaining CNSL extraction mass could be used to produce fuel briquettes. These shell by-products are marketed in order to increase their competitiveness.
b) Oven drying and humidification: Oven drying and humidification, also known as thermal shock, allows the testa to be removed without injuring the kernels. Kernels are heated (dry), humidified, and heated again to complete the thermal shock process. The strong adhesive force between the testa layer and the kernel is ruptured by the thermal shock mechanism. While drying reduces the moisture content of the kernels, causing the testa to constrict, humidification increases the moisture content, causing the testa to expand.
Borma ovens, which are custom-built for oven drying, are used. A humidifier or a thermal shock chamber are used to humidify the air. Modern thermal shock systems combine drying and humidification in a single chamber. A complete list of machinery can be found in Cashew Processing Guide Number 3: A Guide to Raw Cashew Nut Processing Equipment.
Cashew Cutting Machine Manufacturers
Fully Automatic Cashew Cutting machine
Automatic Cashew Cutting Machine Price in India
Accurate Cashew Cutting Machine
Cashew Cutting Machine Price in India